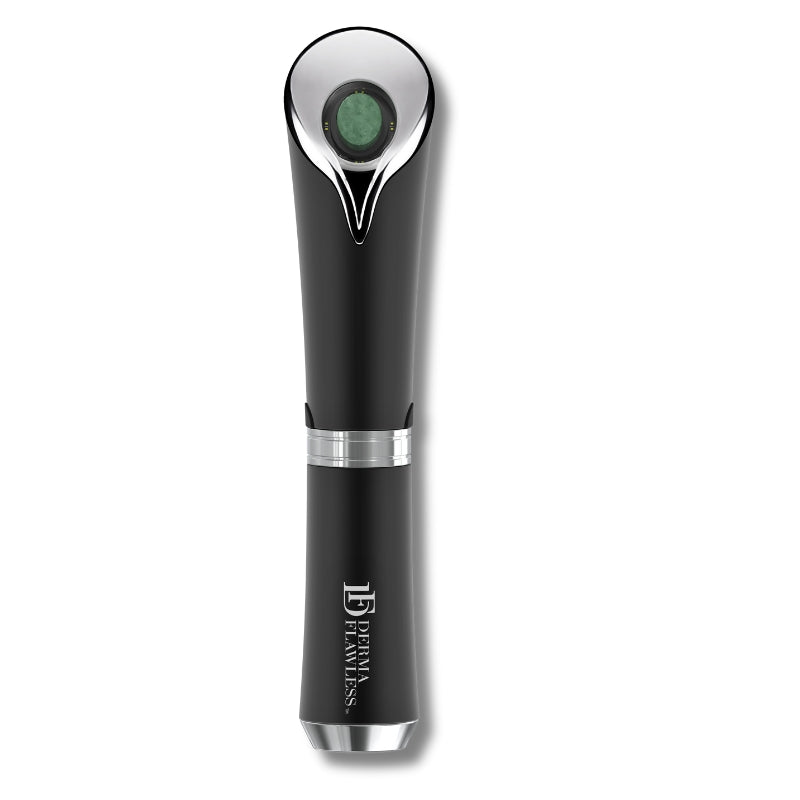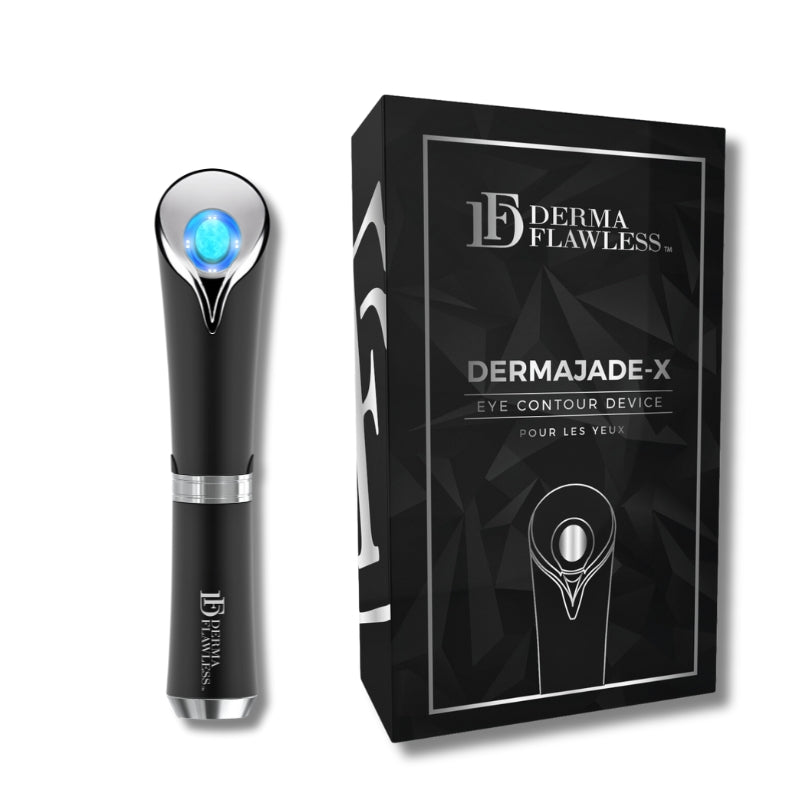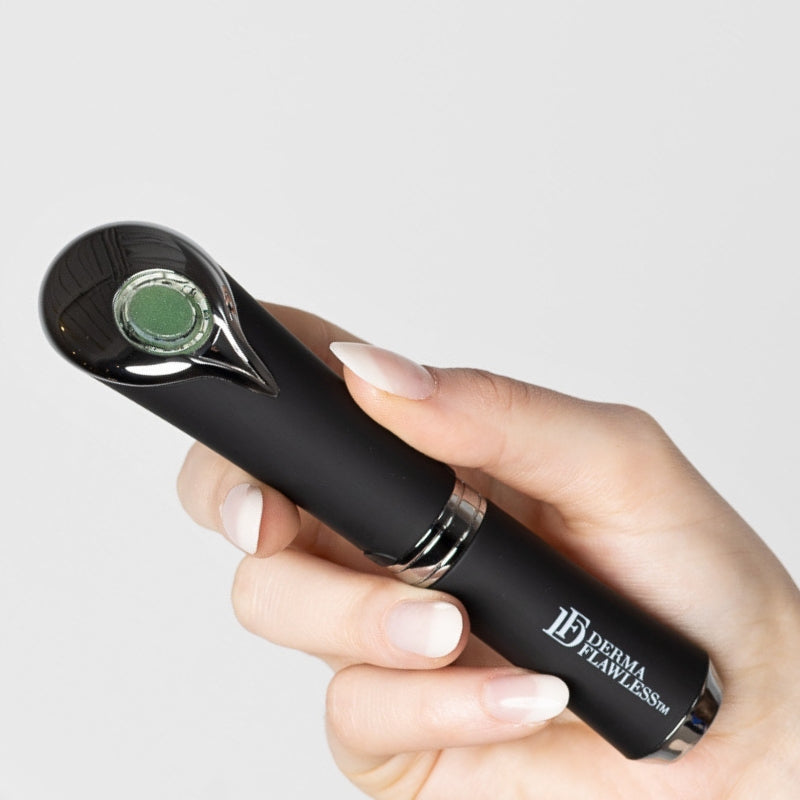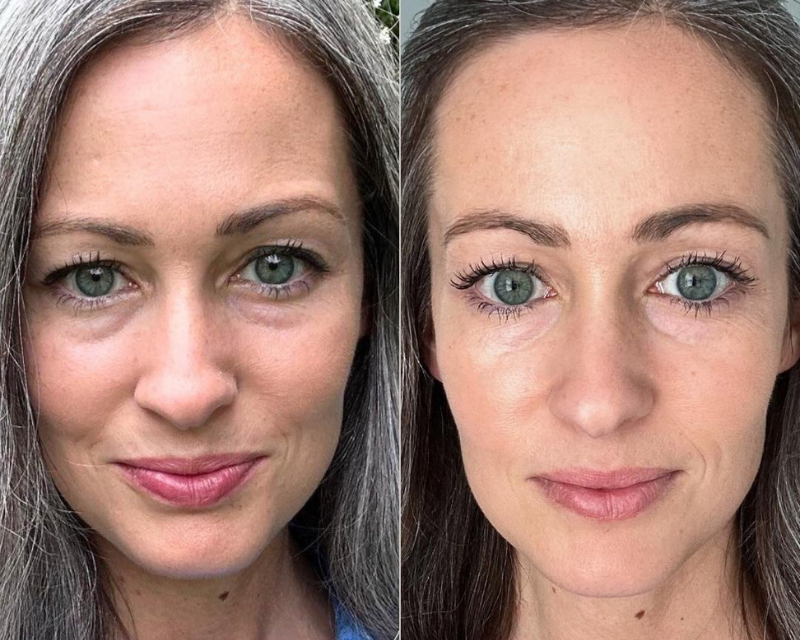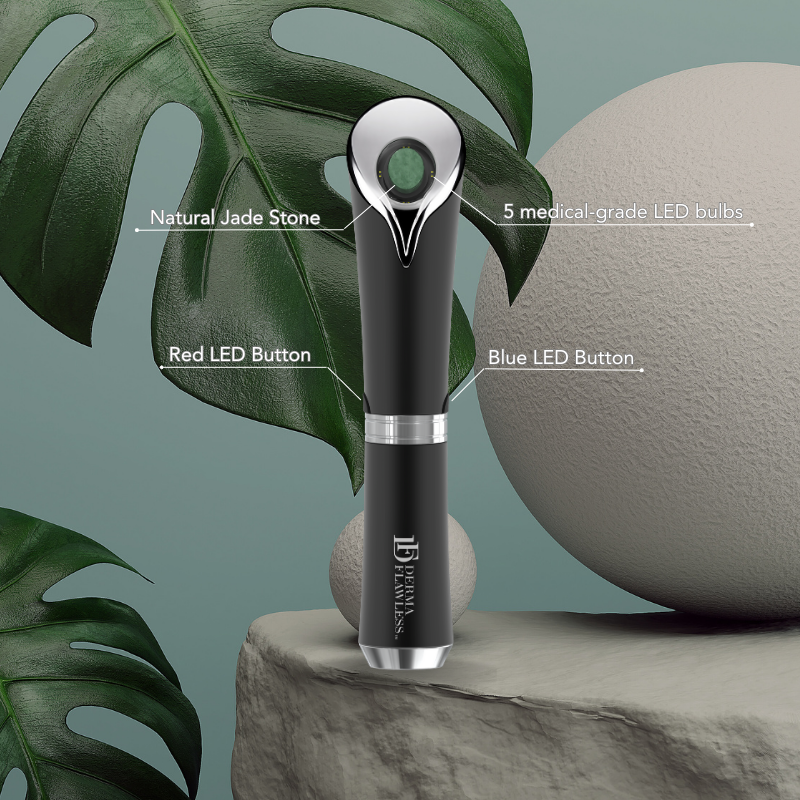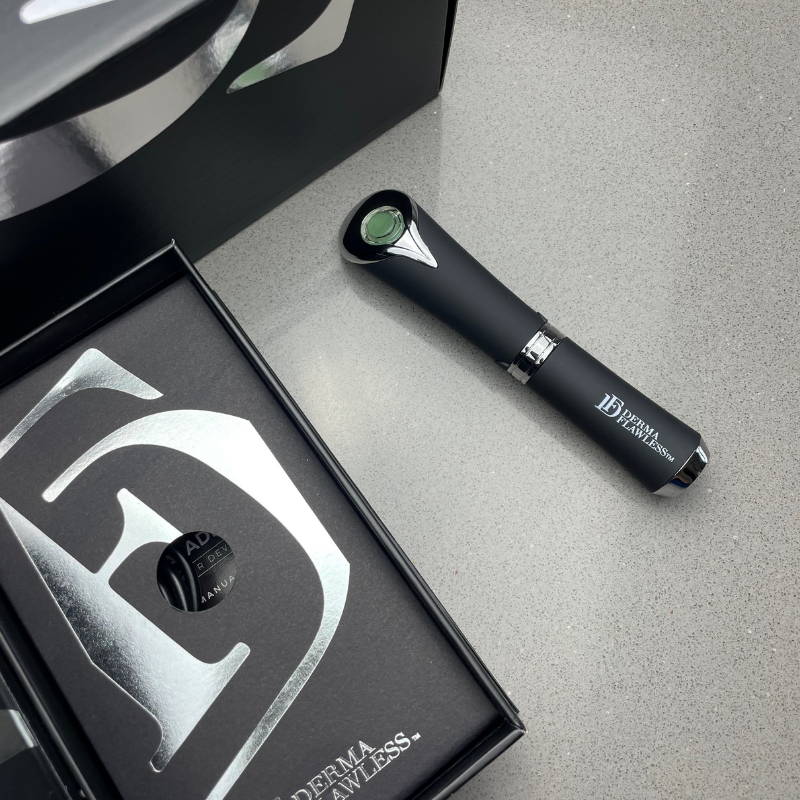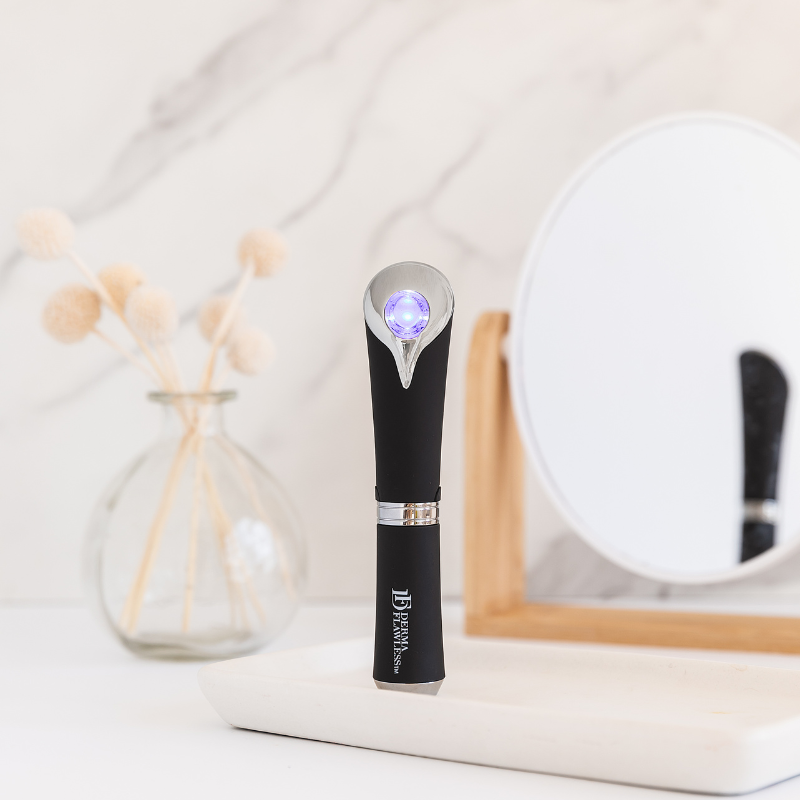 DERMAJADE-X - LED Eye Contour Device
---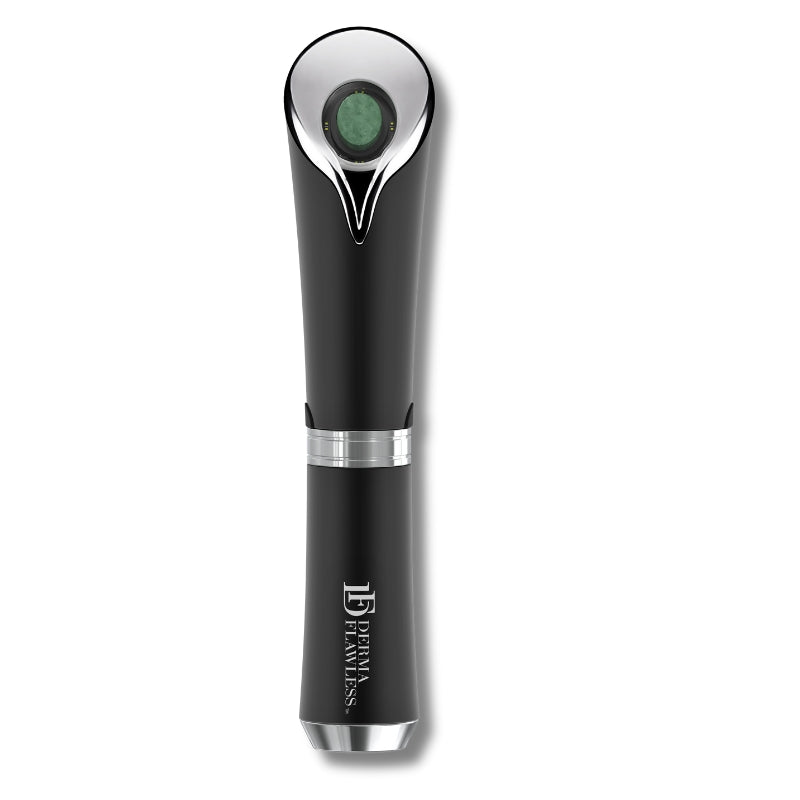 About the Derma Jade-X
DERMAJADE-X is a unique beauty device engineered specifically for the delicate skin around the eye area. With its Natural Jade stone and advanced LED therapy & sonic vibration technology, it reduces under-eye darkness, wrinkles, swelling, as well as lifts hooded eyes and eyelids, delivering unparalleled results in the comfort of your own home. Its portable design allows you to enjoy the benefits of DERMAJADE-X anytime, anywhere.
Both light therapy and light laser have been proven effective in addressing skin aging in spas and clinics. When using light therapy at home, it's crucial to select the appropriate wavelength for the delicate skin around the eyes. With DERMAJADE-X, you can trust its ability to diminish fine lines, wrinkles, dark circles, and puffiness. Unlike other treatments, DERMAJADE-X light therapy is completely non-invasive, with no side effects or downtime. It offers a safe and natural way to improve the appearance of the skin around the eyes.

Proven wavelengths of light therapy reduce wrinkles and aging around the eyes by up to 80%.

Light therapy is safe for the skin as it does not emit harmful UV rays and is non-invasive. It is a gentle and effective way to improve the appearance of the skin without causing damage or irritation.
Step 1: Clean your skin and pat dry.

Step 2: Apply an eye cream or serum to the targeted area.

Step 3: To turn on the device, press the left button. The RED light will turn on for a rejuvenating experience, while the BLUE light will turn on when you press the left button again.

Step 4: Gently glide the device over the targeted area using lifting, circular, or tapping movements for 3-5 minutes.

Step 5: Switch off and clean device after use.

Expert advice: To maximize the benefits of the treatment, apply an eye cream/ serum once more to seal in the effects. This helps to nourish and hydrate the skin, while also enhancing the rejuvenating effects of the device.
Is light therapy safe to use?

Light therapy is a safe and effective treatment for the skin. DERMAJADE-X devices are designed to be gentle and non-irritating, making them 100% safe for use on the delicate skin around the eyes.

How often should I use the device?

The device can be used daily.

Do I need to clean the device, and if yes, how?

Clean the device with a water-based wipe before each treatment, and use 70% alcohol for stubborn stains. Avoid washing the device with water, and always wipe the LED side softly and let it air dry. These simple steps will help maintain the device's performance and longevity.

Can I use the devices while wearing makeup?

It is recommended to have clean, makeup-free skin before using light therapy. Products such as makeup can hinder the penetration of light therapy into the skin, reducing its effectiveness.

Is it safe to use my preferred skin care products with the DERMAJADE-X device?

Yes, our devices work synergistically with many skincare lines. For optimal results, we recommend applying a natural serum or cream before using the device.

What type of results will I see, and how quickly will I see them?

According to customer feedback, 90% of DERMAJADE-X users have reported improved facial contour, skin tone, reduced wrinkles, and a reduction in the appearance of dark circles and puffiness around the eyes. However, results may vary depending on skin type and condition. To achieve optimal results, regular use is recommended.

Where are you based?

We are based in Canada.

Is it necessary to wear goggles during LED light therapy if you are sensitive to light?

While using the DERMAJADE-X, it is not necessary to wear goggles. However, it is not advisable to look directly into the light. To avoid light sensitivity, we recommend performing your treatment during the day in a well-lit room.

Is the light therapy safe for dark skin tone ?

Light therapy is a safe and effective treatment for all skin types. It has been cleared by the FDA and harnesses, non-ablative light energy. The lack of UV rays makes light therapy an ideal and reliable treatment for anti-aging skin benefits, and it is safe for all skin types.

Is there a warranty for this product?

DermaFlawless devices come with a 2-year warranty from the date of delivery. Please note that accidental damages are not covered under the warranty. If you encounter any issues with your device, please contact info@dermaflawless.com, and our team will be happy to assist you.

Can Red Light therapy be used on skin with rosacea?

Red light therapy is safe for all skin types and tones, and the DERMAJADE-X Eye Contour Device uses a low level of LED wavelength that is suitable for sensitive skin. When used directed for 3 minutes per treatment area, it does not irritate rosacea and can actually help reduce the appearance of redness.

Is it better to use the device in the morning or at night?

DERMAJADE-X device offer benefits for both morning and night use. Early risers can enjoy an instant glow that lasts all day, while night owls can calm their skin and promote its regenerative process for a better sleep. Consistency is key, so find the routine that works best for you!

Is it safe to use if I have cancer?

LED light therapy is not recommended for individuals with cancer or undergoing cancer treatment due to the common side effect of photosensitivity caused by various chemotherapy drugs. If you are uncertain about any medications you may be taking, please consult your healthcare provider.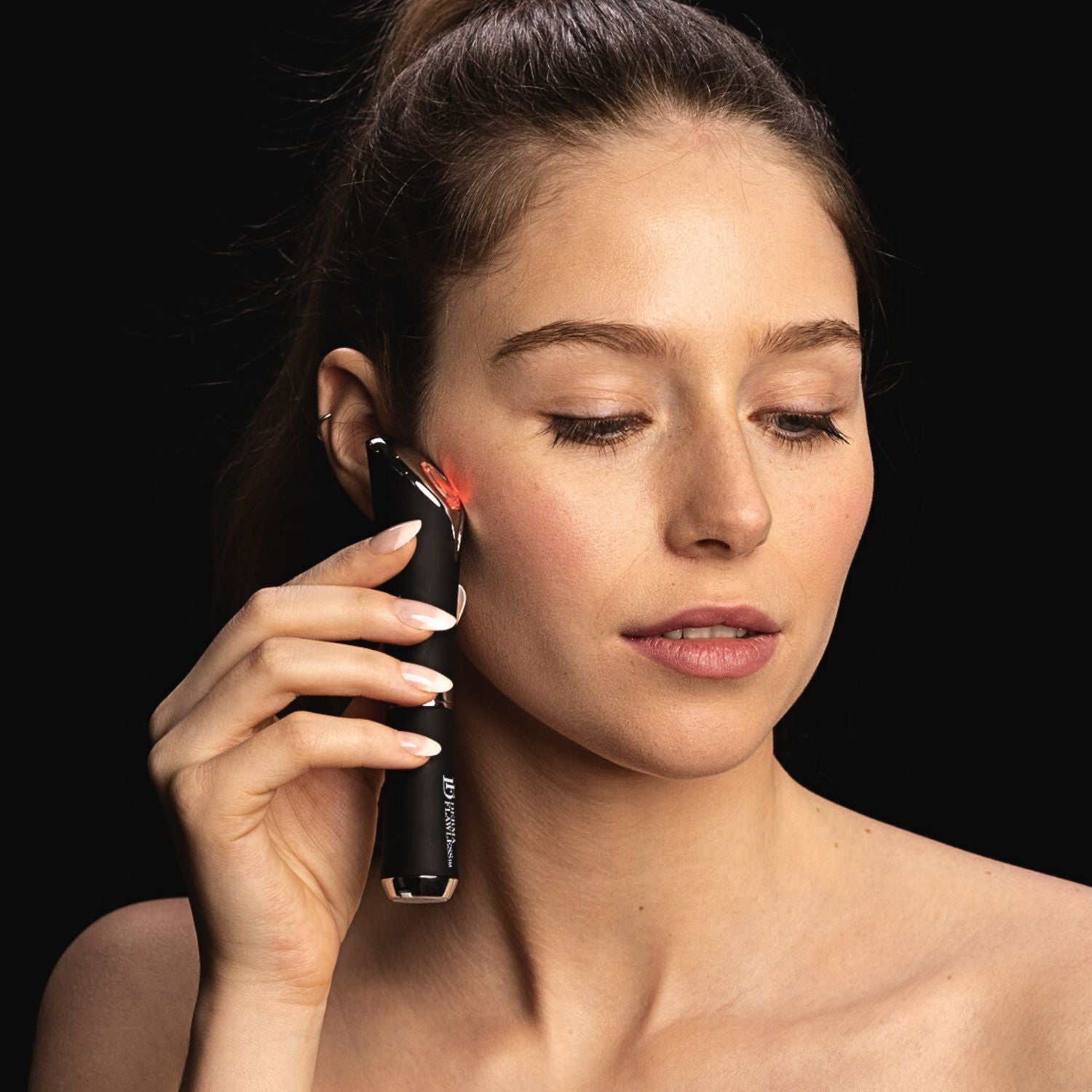 HOW IT WORKS
As we age, our skin's natural cell replication and collagen production slow down, especially in the delicate skin around the eyes. This process can be accelerated by environmental factors as well.
Light waves interact with the skin through reflection, scattering, absorption, or transmission. Blue light is primarily absorbed and scattered in the outer layer of the skin (epidermis). Red LED therapy can penetrate deeper into the skin, reaching the dermis where collagen and elastin fibers are located.
The DERMAJADE-X LED Therapy utilizes the safest wavelengths for the delicate eye area, which are red light at 650nm and blue light at 430nm. These wavelengths jumpstart collagen production and deliver restorative benefits deep beneath the skin's surface.
The restorative effects of the DERMAJADE-X provide both immediate and long-lasting transformative results for a more youthful appearance. It stimulates collagen and elastin production, improving skin elasticity and reducing signs of aging..
Learn more about LED Therapy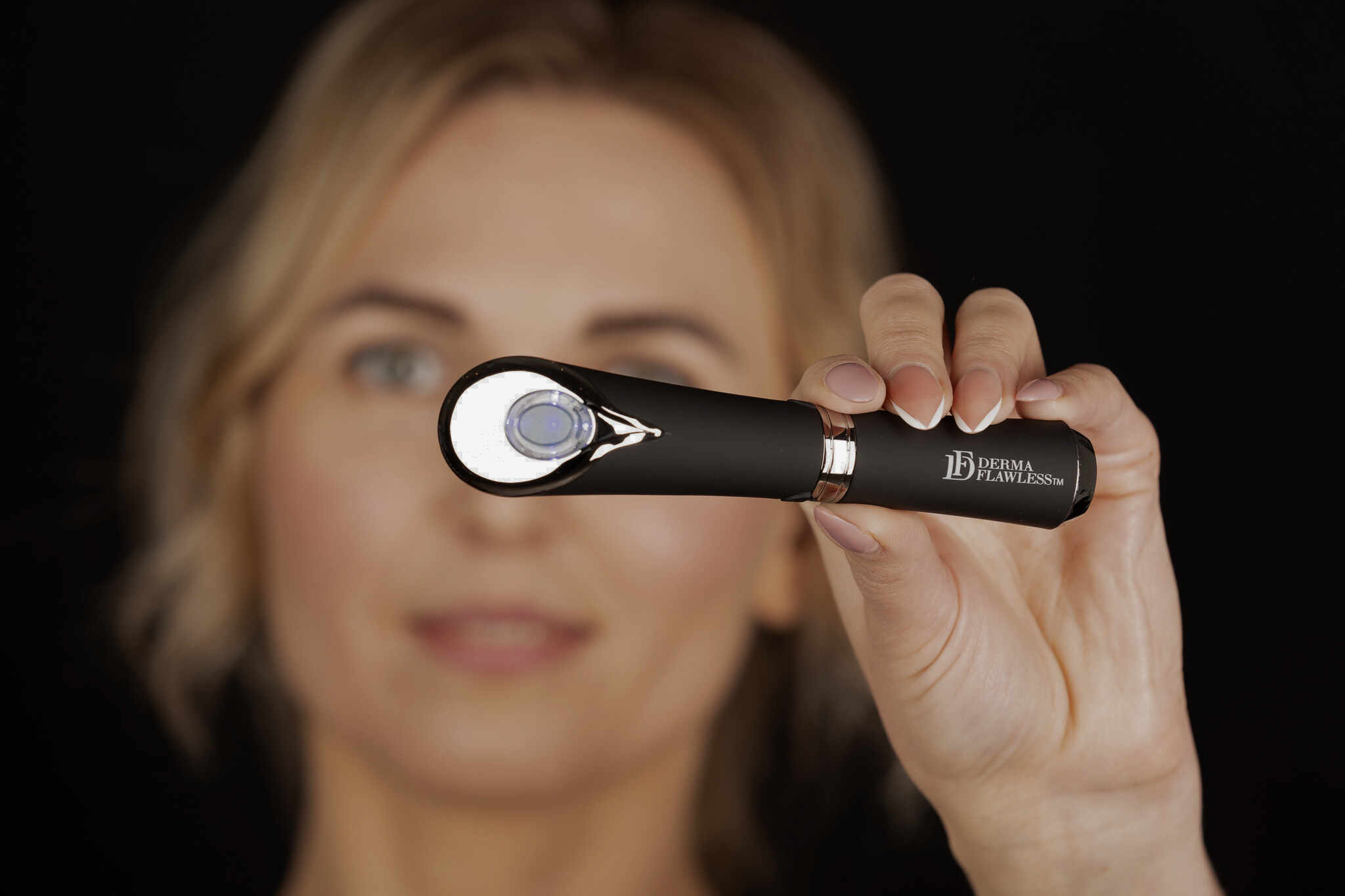 Why DERMAJADE-X stands out?
The DERMAJADE-X Eye Contour Device employs advanced LED technology with two powerful wavelengths (RED Light 650nm) and (430nm Blue light) to deeply penetrate the skin, addressing signs of skin aging around the eyes. Our proven technology boosts collagen production and initiates skin healing, resulting in firmer, plumper, and more elastic skin around your eyes. In just three minutes a day, you can diminish the appearance of dark circles, eye bags, fine lines, wrinkles, hooded eyes, and sagging eyelids. Expertly engineered for the delicate skin around the eye area, this device features a natural jade stone and a medical-grade stainless steel head. Experience the benefits of gentle, non-invasive light therapy combined with the soothing properties of jade for an indulgent skincare experience.
Red LED Therapy & Sonic Vibration
✓ Smooths away the appearance of wrinkles and fine lines.
✓ Elevate eyebrows and diminish hooded eyes.
✓ Reduce the appearance of crow's feet.
✓ Reduces age spots and hyperpigmentation.
✓ Promotes cellular repair and regeneration.
The Red light therapy uses 650nm wavelengths to target and energize skin cells around the eyes. This activates photobiomodulation, stimulating collagen and elastin production for improved skin elasticity, reduced fine lines, and wrinkles. The therapy's deep penetration promotes rejuvenation and a more youthful complexion.
Blue LED Therapy & Sonic Vibration
✓ Reduces under-eye puffiness and dark circles.
✓ Improves lymphatic drainage in the delicate eye area.
✓ Improves skin texture and smoothness.
✓ Boosts overall skin health in the eye region.
✓ Minimizes the visibility of under-eye veins.
The Blue light therapy utilizes a 430nm wavelength that penetrates the skin deeply. When applied to the skin around the eyes, this light stimulates cells, increasing blood circulation. Enhanced circulation delivers more oxygen and nutrients, instantly smoothing the skin.
It's as simple as 1-2-3.
This product is rated 4.8 of 5.0 stars.
It has received 17 reviews.
You may also like
Save C$50.00
Save C$110.00