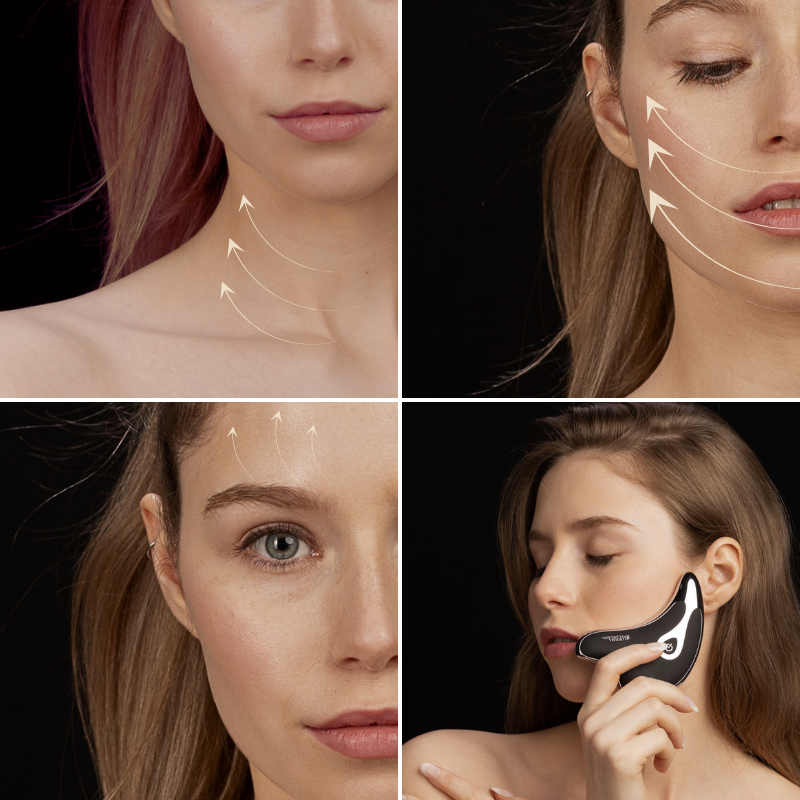 DERMA V-LIFT - Facial Toning Device
---
About the DERMA V-LIFT
DERMA V-LIFT is an innovative facial sculpting device that harnesses two special massaging modes, high sonic vibration, and Thermotherapy to deeply penetrate the skin, creating a stronger and more elastic bond. This device helps tighten and lift your face, neck, and jawline, including the delicate eye area, brows, lip lines, cheeks, and chin, reducing edema and resulting in noticeably firmer and more youthful-looking skin. Inspired by the ancient guasha tool, the device utilizes advanced high-frequency sonic vibration technology, which has been proven effective in clinics for years. And now, this technology is available in a handheld, portable unit that you can enjoy anytime and anywhere.
Rooted in traditional Chinese medicine, GuaSha involves using a stone tool to gently scrape the skin, stimulating blood circulation and promoting lymphatic drainage. This technique has been revered for its ability to reduce puffiness, enhance the skin's radiance, and improve overall facial health.

The rich heritage of GuaSha serves as the inspiration behind the Derma V-Lift device, which harnesses the power of this ancient practice and combines it with modern technology to revolutionize facial and body sculpting.

The Derma V-Lift device takes face sculpting to new heights with its innovative features. By utilizing high sonic vibration and heat therapy, this device optimizes the effectiveness of GuaSha, providing you with an unparalleled sculpting experience. The gentle vibrations work synergistically with the heat therapy to stimulate collagen production, tighten the skin, reduce double chin, and redefine facial contours. Targeting key areas such as the face, neck, cheekbones, and jawline, the Derma V-Lift helps you achieve a more youthful and lifted appearance.

Proven to achieve impressive results, clinical studies have demonstrated that daily facial sculpting can lead to a remarkable reduction of up to 45% in facial volume, resulting in a more defined and sculpted appearance. Moreover, it has been shown to improve overall facial symmetry by up to 30%, creating a harmonious and balanced look.

Face sculpting is a safe and non-invasive method that offers remarkable results. With gentle techniques employed, it ensures the well-being of your skin. This effective approach improves the overall appearance without causing any damage or irritation. Embrace the benefits of face sculpting, where safety and effectiveness go hand in hand to unveil your desired facial contours.
Step 1: Clean your skin and pat dry.

Step 2: Apply your favorite facial oil or serum to your skin.

Step 3: To turn on the device, long press on the button. The RED light will turn on for a hot temperature mode, while the BLUE light is home temperature.

Step 4: Gently sculpt the device over the targeted area using lifting, circular, or tapping movements for 3-5 minutes.

Step 5: Long press to turn off and clean the device after use.

Expert advice: To maximize the benefits of the treatment, apply Borage oil or anti aging serum to seal in the effects. This helps to nourish and hydrate the skin, while also enhancing the rejuvenating effects of the device.
Is it safe to use?

Face sculpting is a safe and effective treatment for the skin. Derma V-Lift devices are designed to be gentle and non-irritating, making them 100% safe for use.

How often should I use the device?

The device can be used daily.

Can I use the devices while wearing makeup?

No, you should be makeup-free before using the device.

Is it safe to use my preferred skin care products with the Derma V-Lift device?

Yes, our devices work synergistically with many skincare lines. For optimal results, we recommend applying a natural serum or oil before using the device.

What type of results will I see, and how quickly will I see them?

According to customer feedback, 80% of Derma V-Lift users have reported improved facial contour, skin tone, reduced wrinkles, and a reduction in the appearance of double chin and facial puffiness. However, results may vary depending on skin type and condition. To achieve optimal results, regular use is recommended.

Where are you based?

We are based in Canada.

Does the device come with a warranty?

DermaFlawless devices come with a 2-year warranty from the date of delivery. Please note that accidental damages are not covered under the warranty. If you encounter any issues with your device, please contact info@dermaflawless.com, and our team will be happy to assist you.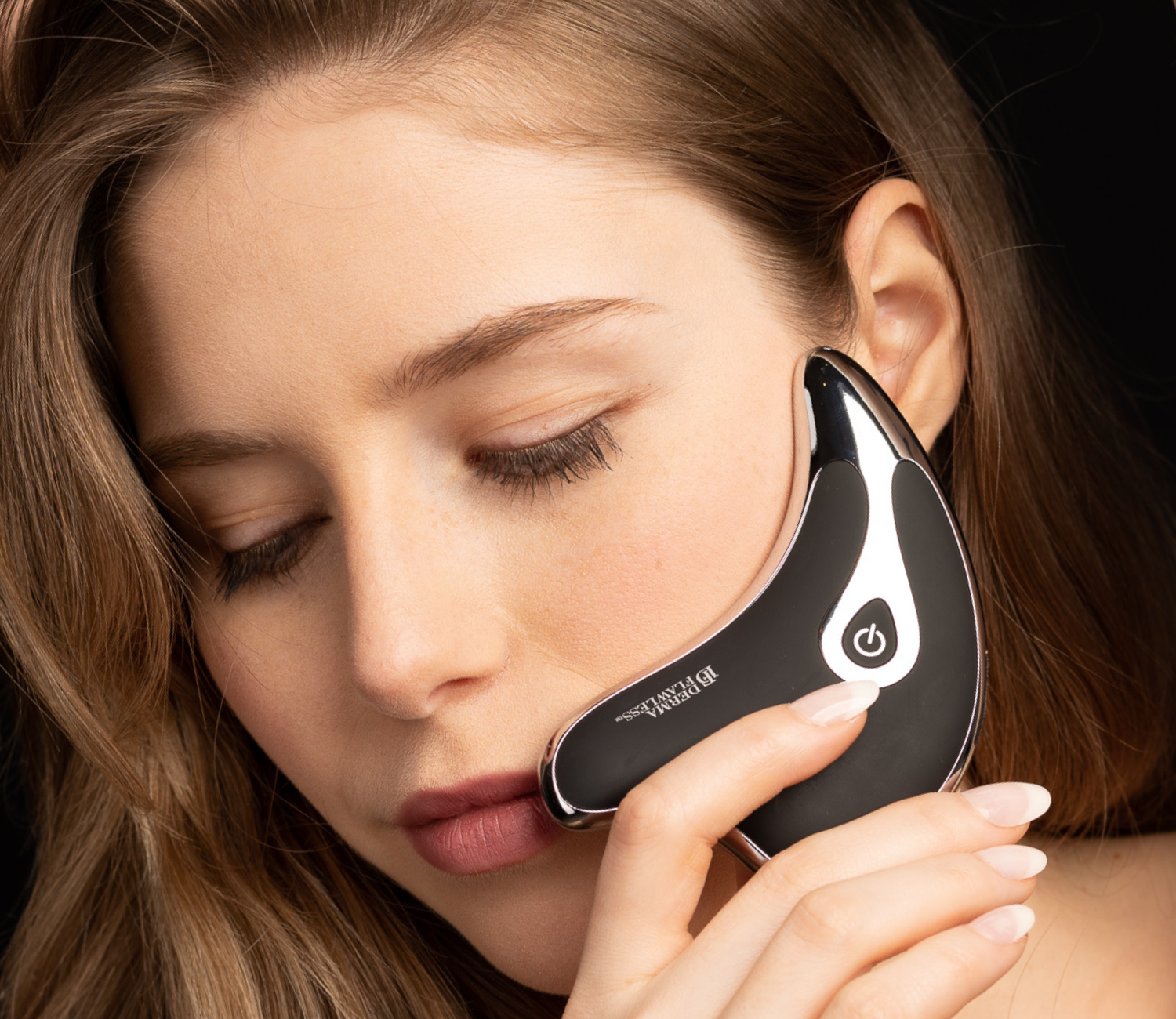 HOW IT WORKS
The Derma V-Lift device incorporates sonic vibration and heat therapy that effectively stimulate and activate the facial muscles, aiding in their firming and toning. Just as physical exercise stimulates our body muscles, the vibration of the device work synergistically to invigorate and engage the facial muscles, promoting a more lifted and youthful appearance.
This innovative approach harnesses the power of vibration to optimize muscle stimulation, helping to enhance facial contours, improve skin elasticity, and reduce the appearance of sagging and excessive facial fat. Experience the rejuvenating effects of facial muscle exercise with the DERMA V-LIFT, a non-invasive solution that promotes a sculpted and revitalized complexion.
Learn more about Face Sculpting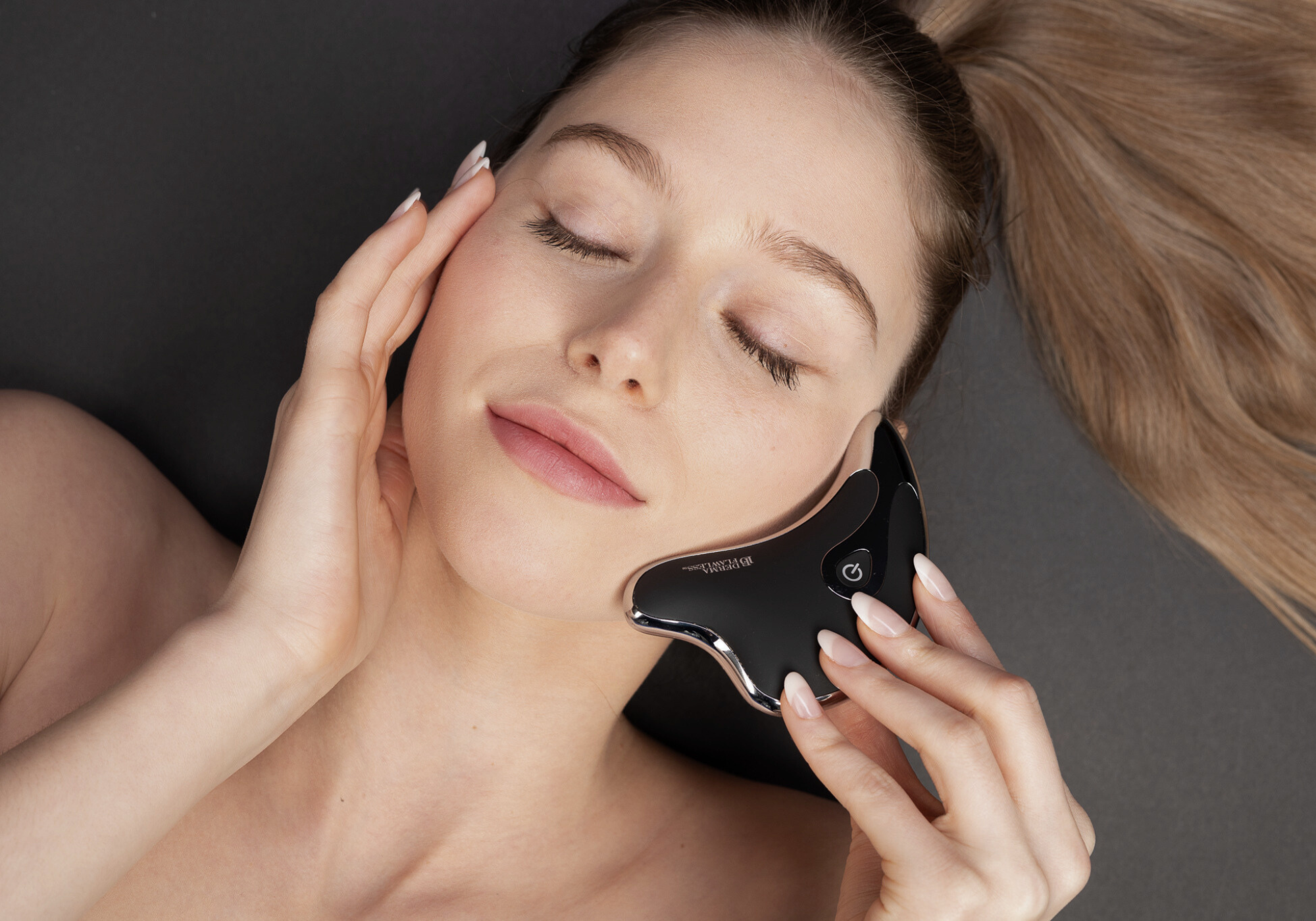 Why DERMA V-Lift stands out?
The DERMA V-LIFT is a masterpiece of design, with its 3D contours perfectly fitting every angle of your face. This ingenious design offers a multifunctional sculpting experience, enabling you to naturally contour and define your facial features. Crafted for durability, our device is your key to achieving the sculpted and chiseled facial appearance you desire.
Sonic Vibration & Smart Touch
✓ Promotes lymphatic drainage, reducing puffiness and toxins.
✓ Improves facial muscle tone and tightens sagging skin.
✓ Relaxes facial muscles and reduces tension.
✓ Helps to improve the appearance of uneven skin texture.
✓ Stimulates collagen production for improved skin elasticity.
The sonic vibration penetrate deep into the skin, stimulating the production of collagen and elastin—the essential proteins responsible for maintaining skin's firmness and elasticity. As the vibrations reach the facial muscles, they encourage increased blood flow, promoting nutrient delivery and oxygenation, vital for healthy skin cells.
42°C Thermotherapy Settings
✓ Opens up pores, facilitating better absorption of skincare products.
✓ Improves the effectiveness of facial treatments and masks.
✓ Increases blood circulation, promoting a healthy complexion.
✓ Reduces facial edema and inflammation.
✓ Supports the natural detoxification process of the skin.
The heat mode can provide significant benefits to your facial health. When applied to the skin, heat helps increase blood circulation, while the cool mode tightens the pores, allowing essential nutrients and oxygen to reach the skin cells more effectively. This improved circulation can result in a rejuvenated complexion and promote a healthy, glowing appearance.
Over 90% of customers notice significant results within 3-8 weeks!
Proven to Tone & tighten your facial muscles
This product is rated 4.5 of 5.0 stars.
It has received 19 reviews.